How to Leave a Lasting Impression at Your Next Event
Besides a great breakfast, nothing sets the tone at company events like an energy filled video. We're talking music to get them pumped up, inspiring images, and quotes so good your audience will be scrambling to tweet them. We can get your audience to lean forward in eager anticipation of what's coming next. An excellent opening video gets attendees on the same page, in the right mindset, and excited and open to hearing what's next.
As the event planner, we know you've been in more meetings than you can count to line up the keynotes, demos, attendee activities, hotel rooms, transportation, WiFi, the special mobile app, meals, not to mention all the A/V necessary to make the show come to life. You want all of your attention to detail leaving a lasting impression on this group of people that come from many walks of life.
The right "kickoff" or "opening video" will set the tone, the mood, and generates excitement for the entire event. Just think of it: you'll have all of your audience in one room; it's a chance to tell everyone why they're sitting in that audience; a chance to set expectations and get them fired up about the activities and opportunities they'll enjoy. One of our favorite events, Intel's annual ISEF competition is on point with their use of an energy filled opening video.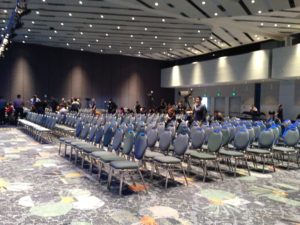 The team successfully planted the seeds of a new community over the course of this event and it all started with a powerful video that engaged the crowd, educated them about the event, and most importantly got them excited to be a participant. There's nothing like inspiring thousands of the country's brightest young minds, and showing them what an incredible experience in which they're participating and without a doubt the energy in the room was felt at the start of the day.
You want your event to really be the one that stands out in all the noise, confusion, and chaos that your attendees live with every day. Given all the topics you'll cover over the length of your event, you need to take charge out of the gates and show them what to expect in the upcoming days and how to get the most from the opportunity your event is giving them.
Our team is experienced with all aspects of event planning, and we're experts at setting the tone and communicating your roadmap in a fun and impactful way. From a small group from the C-Suite to over five thousand attendees in one room, we've successfully executed hundreds of live events around the World. With a custom video tailored to your audience and your event, you'll nurture an open mind in each of your attendees: one that's ready to have you and your event make an impression that will last long after the plane ride home.